Caring For Your Engagement Ring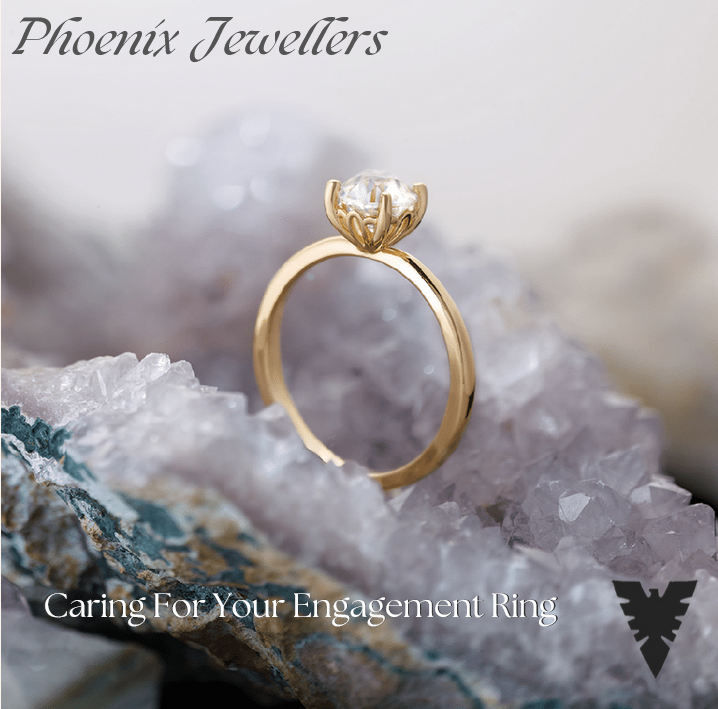 Getting used to wearing an engagement ring is an exciting and unique experience, whether you have a familiarity of wearing fine jewellery or are new to the experience. Wearing a ring which holds such great sentimental value every day can be intimidating. It's common to want to turn to a professional for some advice. You may find yourself asking questions like, "Can I wear my ring while doing the dishes?" "Do I wear it while I sleep?" and "What is the ideal cleaning method for it?" Throughout this blog, you will learn about our professional tips & tricks on how to keep your rings in the best condition. If you are left with any questions or clarification needed, please reach out to us at (519) 972-3933 or send us an e-mail today.
Shimmer and Shine
Just like everything in life, diamonds and gemstones can attract grime, dust, and fingerprints. It's important to avoid touching the center stone of your ring when handling it. We recommend that you hold your ring by the band to prevent dirt from being deposited under the setting. We advise that you have your ring looked at by a master jeweller every 3-4 months to ensure that the prongs on your ring are strong and in good shape to keep your stones safe. If you are in the area, we encourage you to stop by and have your ring cleaned and inspected, as all cleaning and inspection is complimentary! If you have a jewellery cleaner at home, pat the surface dry after cleaning with a lint-free cloth to avoid water stains. In store and online, we offer cleaning cloths for a quick touch up and jewellery cleaner specific for the needs of your special ring!
Durable but Not Indestructible
Diamonds are a 10 on the Mohs hardness scale. However, despite their reputation as the strongest stone, diamonds are not indestructible. No matter how old they are, it is possible for them to be cracked or chipped. Be mindful not to clash your ring against other jewellery or hard surfaces.
To Wear or Not to Wear?
Most people wear their rings regularly throughout the day, but there are some situations where you can avoid wear and tear. It is common for people to take their rings off when washing their hands as a safety precaution. Unless you have a plumber's number on speed dial, try to make a habit of removing your jewellery before your hands are in a sink. Another strategy we recommend is having a few small jewellery dish trays around the house in spots where you typically would remove your jewellery. For example, keeping a jewellery dish by the sink or on your nightstand is a beneficial practice. Although we recommend you take your ring off, whether or not you should wear your ring when you sleep is all dependent on your personal comfort level. We also would recommend that you take your ring off when you are handling any harsh chemicals or cleaners. Lastly, when engaging in any strenuous activities, especially ones requiring your hands, like tennis, golf, moving, gardening, etc., we advise that you remove your jewellery. These activities can damage the prongs and scratch your ring. We advise against swimming while wearing jewellery because the temperature of the water can change the size of your finger, making it simple for a ring to come off.
Our Bodies Change and That's Ok!
Many people consider the element of surprise to be essential to engagements, which makes finding the ideal size a little challenging. Although getting your ring resized for the first time is normal, we advise against multiple refitting's. Traveling, weight changes, and temperature variations can all have an impact on how well your ring fits. However, if you feel like your ring is too big in the cold months, our master jeweller can put a ring guard on your ring. Ring guards are designed to ensure that your ring does not slip off by temporarily altering the size. You can quickly make your ring a half size smaller or larger by stopping by Phoenix Jewellers! Once the warm weather comes, we can simply remove the ring guard. If this is a service that interests you, please reach out to us at (519) 972 – 3933 today!
Insure, Insure, Insure
Accidents do happen, despite how much you cherish and care for your ring. Getting your ring insured is the best course of action. Although you'll want to wear the ring right away, it's better to be safe than sorry. Insurance will shield you from loss, harm, or theft. Homeowners insurance often covers a portion of your collection. If you have any questions, we recommend that you contact your insurance provider for clarification and appraisal advice.